Cancer of the colon begins in the glands and the walls of the intestine and the rectum. It is considered to be a "silent killer" due to the fact that many patients do not show any symptoms until the cancer reaches a stage beyond the point that traditional treatment can be effective.
Researchers and some professionals in the medical field believe that colon cancer can be prevented by adjusting dietary habits and by making better lifestyle choices. In fact, research has shown that one in ten cancers are linked to a diet plan that is considered unhealthy.
Knowing and applying this important researched data can lower your risk of getting colon cancer. In 2009, there were more than 100,000 documented cases of colon cancer in the United States. Genetics is only a small contributing factor of colon cancer, most of the cases of this type of caner have a poor diet in common. It seems that most cases of colon cancer occur in people who consume a high amount of animal products and proceeded foods.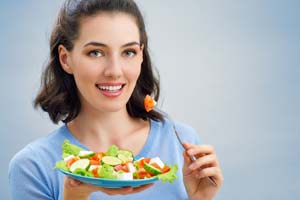 Foods, whether good or bad, has a direct effect on intestinal tissue and cells. Studies have shown that colon cancer is reduced by 25% in people who enjoy and follow a diet high in fruits and vegetables.
To reduce your risk of colon cancer, it is vital that your diet is mainly whole and fresh foods. Many fruits and vegetables contain phytochemicals and micronutrients (which basically are anti-cancer properties).
Broccoli is the number one choice of vegetables to prevent diseases, such as cancer. Raw broccoli naturally contains diinodylmethane and sulforaphane which are known to be very powerful anti-cancer agents. One cup of raw or lightly steamed broccoli can suppress cancerous tumors. Broccoli is rich in Vitamins A, C, E, and K. It is also high in fiber (which is necessary to keep the digestive system working properly).
Sweet potatoes are also an excellent food choice as they are known to relieve symptoms of constipation. Sweet potatoes contain complex carbohydrates, fiber, and vitamins, as well as minerals that are rich in antioxidants (such as beta carotene, pantothenic acid, manganese, and vitamin C and E). These vital ingredients can speed up the movement of waste throughout the intestines and in turn keep the colon clean and disease free.
Tuna contain selenium and selenium is important for detoxifying the body and reducing the risk of cells being mutated. Three ounces of fresh tuna provides sixty (60%) of the daily recommended dose of selenium. Tuna is also an excellent source of omega fatty acid, which is a "good" fat and an important natural protector of cancer.
White rice, white bread and white pasta are heavily associated with patients that have colon cancer. Fast foods and other unhealthy processed food choices are usually very low in much needed fiber. All meats, although high in protein, are void of fiber. Dairy based foods are also void of important fiber. Colon polyps and cancer risks are reduced in people who lean toward a diet that is high in fiber.
For years, the European Prospective Investigation into Cancer (EPIC) has been following the eating habits of many individuals to see if they get ill later in life and the type of symptoms they may show.
Colon cancer risks include, but are not limited to: a diet high in red meat, consuming excess amounts of alcohol, obesity, and a sedentary lifestyle. In addition, it is recommended that exposure to toxins, such as cigarette smoke, should be minimized to reduce the risk of getting cancer. Specific food groups that may increase the risk of cancer, include but are not limited to: butter and margarine, oils, unhealthy fats, starchy carbohydrates, and sugar. Many of these ingredients are hidden in some processed and fast food items.
Overall, a Western type diet is known to lower mortality rate and increase the amount of cancer reoccurrences in patients that previously had stage three colon cancer. Women, in particular, who follow a Western diet (which is commonly associated with high quantities of unhealthy fats) are at a higher risk for developing colon cancer.
It is important to note that there is not a "prevent colon cancer diet" to follow, but by adjusting your diet (at a young age) to include plenty of fresh vegetables and fruits, you can possibly reduce your risk of contracting colon cancer as well as improving your overall health.