The risk of colon cancer is increased by up to 500%, when chronic inflammation in the gut is present, and researchers, at Duke University, now think they know why this number is so high.
Their study shows that, at a cellular level, there seems to be a biomarker that will indicate the early warning signs of colon cancer. This is an important discovery, because colon cancer is the second largest cause of cancer death in the United State. An early diagnosis of colon cancer will cause treatment to be much more effective.
According to Xiling Shen, an associate professor of biomedical engineering at Duke University, more than a quarter of the entire worldwide population is affected by some kind of inflammation of the gut. He went on to say, that these patients have always been at higher risk for colon cancer, but it was never clear as to why this was true.
Researchers were aware of miR-34a (which is what gives cancer cells the ability to divide asymmetrically), but what they didn't know, is where it came from. It is important to note, that normal cells in the colon do not asymmetrically divide, and they do not require miR-34a. Researchers speculated whether the cell mutation was unique to cancer stem cells, or if it is a hidden part of normal physiology. This puzzled the scientific community for a long time. Usually, when something causes a problem, it is removed. When miR-24a was removed from the genetic code of some research mice, nothing changed.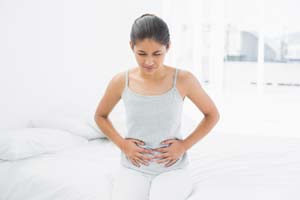 In more recent studies, it was discovered that the problem occurred when tissues became inflamed, even without miR-34a, and stem cells grew quickly and formed tumor-like structures. It was concluded, that even though miR-34a is active in cancer cells; it is not the bad guy. In fact, when triggered to activate (due to inflammation), it begins an asymmetrical division, which is used to control the cancer cell population, and keep it low. As the cancer progresses, cells mutate and turn off the power of miR-34a. The cells divide into flexible hybrids, which make late stage colon cancer extremely difficult to eradicate. Basically, miR-34a is the good guy that shows up when things go bad. When these good guys are silenced, it is similar to a super villain taking out the super hero, and the cancer cells have the freedom to multiply, without any accountability.
Gas, bloating, diarrhea and other digestive issues.
Food allergies or sensitivities to certain foods.
Depression.
Anxiety.
Increased irritability.
Skin conditions, such as rosacea and/or eczema.
Diabetes.
Increased infections can be an indication of an unhealthy gut
Difficulty concentrating.
Decline in memory capabilities.
It is not too late to reverse an unhealthy gut. Below are a few tips, on how to get things back on track:
1. Remove any bad things that are causing your gut distress, such as foods that cause inflammation, such as caffeine. Drugs (like antacid medicines) and alcohol are also negative irritants to the body.
Some common foods that may cause inflammation are dairy-based foods, soy, and white-refined sugars and flours. To confirm what foods may be causing a problem for you, avoid that particular item for at least two weeks, and then add them back into your dietary routine. Note the response from your body during this time period.
2. Now that the bad has been identified and removed, replace the bad with the good. Hydrochloric and bile acids are essential for proper digestion. By not eating white flour and white sugar, this is an excellent starting point to living a healthy lifestyle, and feeling mentally and physically great on a consistent basis.
3. The next step would be to restore the good bacteria, and maintain a healthy balance in your gut. Probiotic supplements (that contains lactobacillus and bifiodobacteria) can help to quickly and effectively restore this delicate balance. In addition, consuming foods that are high in soluble fiber is equally important, to restoring the good bacteria in the gut.
4. Any internal damage needs to be repaired, and when given the proper nutrients, the body can repair itself. Vitamin A, C, and E are excellent nutritional choices, as well as zinc and omega-3 fish oils. Herbs, such as aloe vera and slippery elm, are also highly recommended, to get things back on track and moving in the right direction.