A large clinical study, conducted by the American Cancer Society, suggests that women who have had their ovaries removed may have an elevated risk of getting colon cancer. In conducted laboratory studies, estrogen (the primary female hormone responsible for regulating the reproductive system) has been shown to limit colon cancer cells from growing and spreading, but the exact connection between colon cancer and these hormones is not clear.
Women, who have had surgeries that include the removal of the ovaries, lose the ability to produce hormones, such as: progesterone, estrogen, and testosterone. Basically, women are forced into what is known as "surgical menopause", as opposed to the natural menopausal progression. When normal menopause is uninterrupted, the body will continue to produce low-levels of hormones, which explains the sudden and severe symptoms associated with surgical menopause.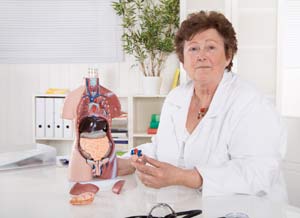 The most recent findings, which were published in the British Journal of Surgery, were based on women who have had one or both ovaries removed, between the years 1965 and 2011. It was observed, that women who had both ovaries removed were at a higher risk for contracting rectal cancer, than those women who only had one ovary removed. After studying about 200,000 Swedish women who have had their ovaries removed showed a 30% higher risk of being diagnosed with colon cancer, than women within their age group that still had their ovaries.
A few other factors were also taken into account, such as, if the women had diabetes or other health issues related to excessive drinking and/or smoking, and other habits that have been directly linked to the rise of colon cancer risk.
According to Dr. Josefin Segelman, who is a colorectal surgeon working out of the Karolinska Institute in Stockholm, stated that it is biologically possible that ovary removal can increase the risk of colon cancer in women. She continued to say, that some other research in this field of study has linked birth control pills and hormone replacement therapy (HRT) with a lower risk of colon cancer.
The hormones (estrogen and others listed above) are knowns to regulate many bodily functions. It is believed by some professionals that cardio-vascular disease may also increase, if these hormones are non-existent. There is some debate about hormone replacement therapies (HRT), but some patients and physicians feel that the benefits of HRTs outweigh the possible risks associated with surgical menopause.
Other researchers, such as Mia Gaudet, who is the strategic director of breast and gynecologic cancer research for the American Cancer Society, is cautioning against making a clear connection between colon cancer and female hormones. Results from a variety of different studies have been mixed, and some say that it is not conclusive that estrogen levels are directly linked to the risk of colon cancer development. Gaudet was not involved in this latest research. She did say, that oophorectomy is linked to patients being screened more often for various types of cancers, but there was limited detail regarding a women's weight regarding these statistics. Dr. Josefin Segelman does agree that the studies are limited.
Oophorectomy (a surgical procedure that is performed to removed ovaries and is compared to a male being castrated) is often done to treat ovarian cysts. Sometimes, an oophorectomy is performed, as a precautionary measure, to lower the risk of getting ovarian cancer; as some women have the BRCA gene mutation, which significantly increases their risk of ovarian as well as breast cancers.
As a last resort, oophorectomy, in conjunction with a full hysterectomy, is used to treat severe cases of endometriosis. When the menstrual cycle is stopped, the pain associated with endometriosis is significantly reduced or eliminated completed. In milder cases, a partial oophorectomy is conducted, to remove ovarian cysts that are known to cause extreme pain.
Some of the long-term consequences associated with oophorectomy include (but are not limited to): cardiovascular disease, early onset of dementia, thinning of bone mass, and Parkinson disease. Hormone replacement therapy may not reduce or eliminate some of the adverse conditions mentioned above.
Gaudet and Segelman agree that continued research in this area needs to be continuous, but in the meantime, they both recommend that women should focus on reducing colon cancer risk factors that are within their control. Such as maintaining a healthy weight, eating a diet that is largely plant-based, avoid processed foods, limit alcohol consumption, and quit smoking.