Colon cancer is among the top five (5) cancers in the United States, and sadly it is the number one cause of cancer deaths among non-smokers in America. It is for this reason, that it is vitally important to get tested for this disease, because when caught early, potential damage can be severely minimized. To ease your mind, and to finally put an end to falsehoods, let's debunk some of the myths about colon cancer that seem to be surfacing.
Myth #1: Only Men get Colon Cancer
As statistics show, about 71 thousands men are diagnosed with colon cancer per year. Women, on the other hand, are also high on the diagnostic charts, as close to 65 thousand women a year, are diagnosed with this disease.
Myth #2: Colonoscopy is an Unpleasant Experience
Ask anyone who has had one, and they will tell you that it is not as bad as your imagination creates it to be. In fact, many patients are sedated, to eliminate any potential discomfort. The entire procedure usually takes less than 20 minutes.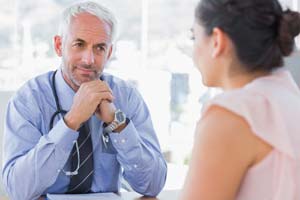 Myth #3: A Colonoscopy is the only Screen Test for Colon Cancer
Other colon cancer screen options include: a double-contrast barium enema, fecal occult blood test, and a flexible sigmoidoscopy. A colonoscopy may not be the only available testing option, but it is the most accurate screen test. In addition to detecting more cancers than the methods mentioned above, it can examine the entire colon, and it also has the ability to remove small polyps during the procedure.
Myth #4: Polyps Equate Cancer
First off, some polyps never carry cancer cells, so this statement is false. In addition, when polyps are small benign growths, they can easily be removed during a colonoscopy and never cause damage. But, if left unchecked and untreated, harmless polyps do have the potential to grow into dangerous cancers.
Myth #5: I don't feel sick so I can't have Colon Cancer
The fact is that the most common symptom of colon cancer is no symptom. More than 50% of people that are diagnosed with cancer of the colon display no symptoms. There is no rectal bleeding, no pain, or changes in stool.
Myth #6: Colon Cancer is not Preventable
Colon cancer starts with a tiny growth (polyp), and when this is detected, it can be quickly removed, and colon cancer will be stopped, before it gets a chance to start. Besides getting screened and medically tested, other ways to minimize your risk of getting colon cancer include: Maintaining a healthy body weight throughout your life; eat at least three cups of fresh fruits and vegetables daily; limit the amount of red meat and processed foods that you consume; limit alcohol consumption; and avoid tobacco use.
Myth #7: Colon Cancer means Immediate Death
Colon cancer, when diagnosed and treated early, has more than a 94% survival rate. It is for this reason, that screening is very important. Colon cancer has less than a 10% survival rate, if and when it spreads to the liver, but even so, the advanced treatments are showing that the survival rate of even the most severe cases of colon cancers are improving.
Myth #8: Little Research is Dedicated to Colon Cancer Studies
The research conducted is exciting, as treatments for shrinking tumors are advancing in leaps and bounds. Screening techniques are also improving. In addition to this continued research, prevention of colon cancer is also a focus of study for researchers. Scientists are working endlessly on this topic.
Myth #9: Age is not a consideration, when it comes to colon cancer
The truth is that most colon cancers are found when a person is over the age of 50. It is recommended by the American Cancer Society, that a person get properly screened when they turn 50 years old. If colon cancer is in your family, and/or if you have a higher risk for getting this disease, it is strongly advised that you be screened earlier than 50 years of age.
Myth #10: If Colon Surgery becomes necessary, I'll need a Colostomy Bag
Surgery, that required an external option for collecting waste, is rare these days. The surgical techniques have become so advanced, that in most cases (more than 80%), the rectum is spared, and the cancer is effectively removed.