Beans are packed with nutrients, is relatively inexpensive and delicious making it a true super food. It is a good source of proteins and vital minerals such as magnesium, molybdenum and calcium. It also contains high levels of fiber which helps in cleansing the colon during digestion. More importantly, it is an alkaline food helping out in balancing a diet filled with alcohol, caffeine and animal proteins.
Detoxify your body naturally with Beans
Beans are an excellent source of phytochemicals and antioxidants which helps in fighting against free radicals. Free radicals are chemical byproducts that damage the body. Health experts identified beans as one of the best sources of antioxidant. Kidney beans, white beans (e.g. Cannelini beans), black beans, pinto beans, black-eyed peas and red beans are considered to have the best antioxidant capabilities.
Preparing your Beans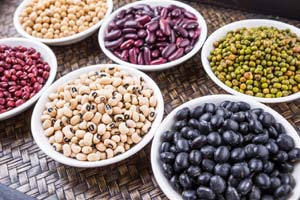 To properly prepare dried beans, one may soak them overnight to allow them to soften. For a tastier fare, some people choose to simmer it slowly under low fire. Others who do not have adequate to prepare their food choose canned beans. Experts do not recommend canned beans or pre-cooked beans from grocery stores as these are most often non-organic and contain toxins and preservatives overriding the purpose of detoxification. However, one may choose a healthier fare through opting for beans canned in water.
Five Cleansing Beans
Kidney Beans
Kidney beans are an excellent source of fiber that helps in lowering cholesterol levels in the body. Its high fiber content also aides in preventing rapid increase of blood sugar levels after meals. Because of this property, it is one of the best foods recommended for individuals suffering from hypoglycemia, insulin resistance and diabetes. Taking red kidney beans with whole grains (e.g. rice) also help in producing excellent quality protein. In addition to this, it is also a good source of an essential trace mineral known as molybdenum. Taking foods rich in molybdenum is important as it helps in the production of sulfite oxidase – an enzyme that is responsible in detoxifying sulfites in the body.
Other benefits associated with kidney beans include its ability to improve heart health. Studies have shown that it can help in preventing coronary heart disease. It contains magnesium, folate and high fiber content which help in improving the metabolic process and blood, oxygen and nutrient circulation in the body. It also provides protein and iron that is readily converted to energy while help in stabilizing blood sugar. Kidney beans can also maintain one's memory through helping with the production of thiamin. Thiamin or vitamin B1 is crucial for the synthesis of acetylcholine – a neurotransmitter that regulates memory and age-related mental functions. Lastly, it is also a good source of manganese. Manganese is a trace mineral essential for its antioxidant and energy production capabilities.
Cannelini Beans
Cannelini beans are a popular staple in Italian cuisines. It is basically white beans known for its nutty taste and firm texture. A few of its well-known benefits include its low glycemic index, antioxidant and detoxifying properties. Cannelini beans have low glycemic index making it an ideal food for dieters and diabetic patients. Unlike other food sources, it does not cause sudden increases in insulin and blood sugar levels while being able to produce the necessary energy for daily activities.
It also has detoxifying properties. Cannelini beans are an excellent source of molybdenum which plays a role in activating important enzymes such as aldehyde oxidase and sulfite oxidase – both of which are able to destroy carcinogenic and toxic substances from processed foods. It is also packed with antioxidants which helps fight off free radicals prevents diseases (e.g. dementia, diabetes, cancer, arthritis, atherosclerosis) while preserving youthfulness.
Pinto Beans
Pinto bean is a popular variety of common beans frequently used across the United States and northwestern region of Mexico. Similar to both white and red beans, pinto beans are packed with numerous health benefits. A cup of cooked pinto beans contains up to 285% of molybdenum's daily intake requirement. Molybdenum helps with the body's ability to detoxify as well as in energy production. Pinto beans also aides in the development of the nervous system which makes it a must-eat food for pregnant women. Its folate content helps prevent neural tube defects formation while improving red blood cell formation amongst fetuses.
Other benefits associated with pinto beans include its ability to help in maintaining healthy blood pressure. It has low sodium and high potassium content. Moreover, it is a good source of choline and thiamin which helps in improving muscle control and memory.
Adzuki Beans
Adzuki beans are a staple in Asian cuisine. It is often made into a paste, served with rice or turned into a dessert. It has high soluble fiber content keeping cholesterol levels within the normal range. Its high folate, magnesium and potassium content also helps in preventing numerous cardiovascular diseases. Adzuki beans are known to prevent constipation and colon cancer while supporting healthy weight loss.
It contains healthy amounts of essential minerals such as molybdenum, manganese, copper and zinc which helps maintain excellent health. Adzuki beans are also rich in B vitamins including folic acid, vitamins B1, B6, B3 and B2. A quarter of a cup of adzuki beans also provides the recommended daily intake of the trace mineral molybdenum, which is important for liver detoxification.
Mung Beans
Mung beans have been used in Ayurvedic medicine for thousands of years for its cleansing ability. It contains flavonoids which aides in slowing down the body's natural ageing process. Similar to other beans mentioned above, mung beans are rich in minerals (e.g. magnesium, phenols), and help maintain normal blood sugar levels. It also has excellent antioxidant properties which aides in maintaining a healthy heart. Several experts also discovered that mung beans help with the production of butyrate – a fatty acid that upholds healthy gut.
These five cleansing beans are filled with nutrients which could help in maintaining a healthy body, heart, gut and memory while producing your much needed energy.