When waste is not effectively eliminated out of your body on a regular basis, toxicity can occur, which can lead to a variety of health problems. When the body becomes overloaded with toxins, systemic functions are debilitated and will not function at optimal levels.
Listed below are 12 of the most common warning signs and symptoms of an unhealthy and backed-up colon.
Constipation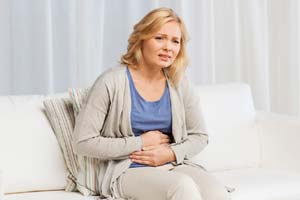 Constipation is the inability to defecate and properly eliminate waste. Many times constipation is due to a poor diet, drugs, stress or another substance that is toxic, and will cause the colon to go into "protective mode" by producing excess mucus. This mucus binds to waste/sludge, that comes from refined and processed foods (such as white rice and white flour), and it will build up along the walls of the bowel. This buildup will eventually narrow the space available for waste to be removed. This is known as an "impacted colon". Diarrhea, which is a form of constipation, is also a sign of an unhealthy digestive system.
Chronic constipation is a warning sign that something is not right with your digestive system. A colon cleanse will help to flush out this excess mucus and allow the natural room for waste to be eliminated effectively.
Frequent indigestion is also a symptom of an unclean colon.
Body Aches
When toxins are present in the body, inflammation is a likely symptom, and this inflammation causes unidentified pain. A detoxifying colon cleanse can reduce excess inflammation, and reduce minor aches, pain and stiffness throughout the body.
Allergies
A colon cleanse will rid your body of poisons that may be the cause skin rashes, as well as coughing, sneezing, and asthmatic systems, that are often excused as "seasonal allergies".
Fatigue
If you sleep eight hours a night, and yet, still wake up feeling tired, it may be the result of an overload of poisons that are making their way throughout your lymphatic systems, and causing you to feel tired. The colon should not be a "holding tank" for feces, as this type of sludge storage will cause fatigue.
You Smell
If you practice good personal hygiene, but still suffer from bad breath, overall body odor and/or excessive smelly flatulence, it could be your body's way of releasing poisonous toxic gas. If your colon is unhealthy, blocked, and not effectively eliminating body waste on a regular schedule, the buildup of toxins will find an alternative way to leave your body.
Acne
A colon that is clogged is similar to a septic tank that is overflowing poison throughout your body. When toxins build up to the point that your skin is unable to "breathe", then pimples can occur. A colon cleanse will literally "pull the plug", and get things flowing normally again.
Inability to Concentration Mentally
If you find yourself in a constant "mental fog", it could be your body telling you that it needs to be detoxified. This most likely is not a sign telling you, that you need a commercially produced energy drink or prescription drug (which will just add more toxins to your body). It is actually a flashing neon sign, telling you that your body must be cleaned out. An internal body cleanse will restore clearer thinking, and will provide you with the ability to concentrate better.
Feeling Depressed
Your mood is linked to the foods you eat. When you add foods that are "life giving", toxins will not have a fighting chance, to get to your brain or throughout your body. It is for this reason, that a colon cleanse will help to boost brain power.
It is important to note, that there is a difference between feeling "blue" and clinical depression. If you think that you are clinically depressed, it is recommended that you seek professional medical attention.
Overweight/Trouble Losing Weight
Even if, you are consuming the right amount of calories and eating the right foods, but are still unable to lose excess weight, your colon may be the problem. Just because, you have switched your diet to a healthier eating plan, if your colon is not clean, you will still be battling the toxins that are stuck in your body. A full body detox will restore your body to "square one", and provide you with the advantage of reaching your weight loss goals.
Trouble Sleeping
When the body is overloaded with toxins, sleep patterns can be severely affected. Body toxins can block the release of melatonin (a chemical in the body that tells us it is time to rest). Before resorting to prescription sleep aids, try a detox to clean your colon, as this will restore your body's natural sleep rhythm.
Sexual Dysfunction
A detox may be the cure for some common sexual dysfunctions, as the body's reproductive organs are similar to all other organs in the body, and they will not function properly when toxins are overloaded in the body.
It has been documented that many individuals, who have completed a full body detox, performed better sexually and had a stronger desire for intimacy.
If you have never had a colon cleanse, and you find that your sexual desire has diminished, before you blame it on age or some other excuse, try detoxing your body and you may see some fantastic results.