There is a difference between feeling bloated and being bloated. A bloated stomach can actually be a symptom of an underlying health condition that you are not aware of. A bloated stomach is not really a good sign. More often than not, a bloated stomach is a sign that there is something going on inside your tummy. So, what does a bloated stomach tell you?
Irritable Bowel Syndrome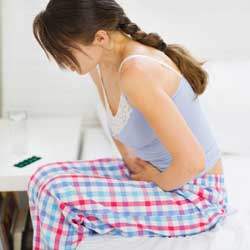 One cause of a bloated stomach is irritable bowel syndrome. Feeling s of being bloated can be intermittently felt. It can also be accompanied by constipation, stomach pain or diarrhea. Irritable bowel syndrome is a dysfunction wherein nothing seems to be wrong with the bowel but the stomach seems to be bloated. Bloating is the most-disruptive symptom of irritable bowel syndrome. For women, bloating happens in the evening. It can also increase their weight. To avoid stomach bloating you should abstain from eating cereal bars, muesli, whole-meal bread, oats and breakfast cereals. Taking probiotics can help ease this problem.
Gas or Flatulence
Another cause of a bloated stomach is flatulence which means you may have a lot of gas in your tummy. Flatulence is common. You can pass gas for 15 times a day and this is still all normal. There is no such thing as excessive flatulence. If your stomach is bloated, there are ways you can reduce the symptom. For one, you can limit intake of beans, apples, prunes, broccoli and cabbage and other foods high in non-absorbable carbohydrates. These foods release a small amount of sulfur gas in the tummy. To prevent or limit flatulence, you should take time to chew your food.
Ovarian Cancer
Ovarian cancer is also a possible cause of a bloated stomach. If bloating is persistent and it is accompanied by a feeling of abdominal pain and the feeling of fullness throughout the day, you might have ovarian cancer. The symptoms of ovarian cancer are hard to pinpoint making it hard to diagnose and therefore to treat. It helps to watch out for potential signs of ovarian cancer like a bloated stomach. Bloating is a key symptom and it should be persistent for this type of cancer. Other symptoms are difficulty eating and urinary problems. Just to be on the safe side, you should get your stomach checked by your physician.
Coeliac Disease
Coeliac disease causes a bloated stomach and it is accompanied by a feeling of tiredness and abdominal pain. People with this disease lose weight without any reason. This disease is caused by the body's reaction to gluten. The body mistakes the substances in gluten as a threat to the body. As a result, the surface of the small bowel becomes damaged. This lessens the body's ability to absorb nutrients in food which leads to bloating. It is best to avoid any food with gluten if you have coeliac disease.