There are many medications today which are made from various chemicals. Although they can treat illnesses, they can also cause simple to severe side effects.
Fortunately, there are alternative medications which are made from herbal substances. These are safer and proven as effective as prescribed drugs. You just need to learn how to use them properly.
Now, some of the most common and deadly diseases of the 21st century are colon-related diseases. Luckily, there are herbs that can be used as a natural treatment for colon problems.Among these potent natural substances is ginger root.
Ginger Root for Colon Diseases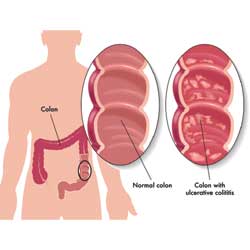 On its own, ginger root is powerful and known for treating a lot of health problems. Its main action is to clean the body from unwanted waste by stimulating digestion, promoting sweating and improving circulation. The digestive action mentioned is what benefits the colon.
With the effect of ginger root, the colon is being cleansed, taking away toxins and waste that can lead to several digestive problems. How? To clarify this, the following statements will explain why and how ginger root can be an effective cleanser and even a natural treatment for colon-related problems.
What is Ginger?
Ginger is a tropical herbal plant which originated in Asia and became popular in the Middle East. Its taste is strong with a lemon-like flavor which stimulates digestion. Aside from this, ginger has several elements which are considered to be medicinal.
The Medicinal Uses of Ginger
In traditional Chinese medicine and in modern herbalism, ginger is known as a potent antiseptic with the ability to stimulate circulation, enhance digestion, treat nausea and is used as a home remedy for cough. This special herb is included in the popular book Encyclopedia of Medicinal Plants. Ginger root is so useful in treating many different health problems that it is known as the "Universal Medicine".
Ginger as a Cleanser
Ginger is a kind of diaphoretic. This means that it can stimulate sweating which helps in the removal of toxins from the body. It also has oleoresins and volatile oils that contain a stimulating effect for the circulatory and digestive systems.
Ginger for The Colon
Most herbal experts from around the world are recommending ginger as a natural treatment for colon problems. Because it is a carminative herb, it can stimulate the secretion of digestive juices which are essential for normal digestion. This process will also help in the elimination of toxins and digestive waste which are stuck in the colon. In order to maximize the potential of this herb, you can combine it with relaxing herbs such as fennel seed and lemon balm.
Another good combination is ginger and the herb senna. This mixture will clean the colon thoroughly as the latter stimulates peristalsis. Just be careful not to take these when you are pregnant or you are allergic to such herbs. For best results, you can consult your doctor regarding the use of ginger root. For convenience, ginger root supplements are available in capsule form enabling you to take it anytime and anywhere.