Colon cancer is on the rise in North America, and more and more research is being done on the causes and effects of colon cancer. Just a few years ago we didn't know much about the colon, but scientists are releasing new information about the subject all the time now. We certainly need the information, because so far, we have been oblivious to one of the leading causes of this deadly disease. I'm talking, of course, about the American diet.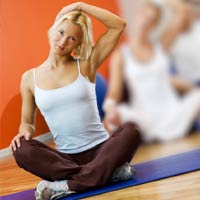 We know that we tend to eat very unhealthily, but we don't often think any further about the matter. We should though, because recent studies have found direct links to colon cancer from our Western diet and lack of exercise. It is a well known fact that lung cancer is caused by smoking, and now research has also linked smoking to colon cancer as well. Diet, exercise and smoking the current leading causes of colon cancer.
The same studies that proved the above mentioned facts also showed that we need to be cutting back on our red meats and alcohol, because consuming too much of either one of these things can lead to colon cancer. You don't have to cut them out altogether, but consider buying lean red meats instead of picking the more fatty portions, and also you will want to limit your intake to once or twice a week. If you have to have some alcohol, try drinking a nice, light, red wine instead of having beer or other types of alcohol. Red wine is very beneficial to your heart health, and as long as you also limit how much you drink, you will be fine.
As for smoking, even those for whom colon cancer is hereditary, quitting smoking an losing any extra weight can still prevent them from getting the disease, whether or not it runs in the family! This will be encouraging news to a lot of people, because when we hear the doctor say that cancer runs in our family, and we have seen a few of our loved ones pass away from it, we tend to think that we don't have much of a hope of escaping from cancer. If you are able to exchange your bad habits for good ones however, you will find that your prospects will also change.
You may be thinking to yourself that your habits aren't really so bad, after all, you don't smoke or drink, you just happen to eat a lot of red or processed meats. Or you could be a smoker and a meat eater but not a drinker. You need to know that while the combination of the 3 things can be deadly, there is still risk to those who only do one of them as well. Please don't be one of those people who only change when it is too late; be proactive in fighting colon cancer, and change your diet habits, quit smoking, and you will reduce your risk of getting cancer.