Advertising Disclosure

?
X
Advertising Disclouser
The content that appears on this page are from companies from which this website receives compensation, which may impact how, where and in what order products appear. This table does not include all companies or all available products. may be used in posts without being labeled as such, however every attempt will be made to maintain transparency. All editorial content is written without prejudice or bias, regardless of sponsor or affiliate associations.
ColonAid 700 Overview
There is no doubt that the cases of colon cancer and related disease has been on the rise, particularly in North America. Because of this, there are now a slew of colon cleansing products available on the market, some obviously better than others.
Unfortunately ColonAid 700 seems to be one of the more questionable products and there are a number of reasons as to why it may not be worth spending money on. One of the first bad signs is that ColonAid 700 is exactly the same product as Colon Med 700, and is marketed using identical information. The ColonAid 700 website is actually quite uninformative, features no FAQ section and only three brief testimonials, only one of which actually mentions the product by name.
The only positive aspect of the website is that it does include a video clip from CBS News which discusses the very real dangers of colon disease, although, despite what the manufacturers may want you to believe, it is not endorsing their product in any way. The only other information the site gives regarding how a colon cleanser may be beneficial is a short piece on how many people have a number of 'undigested' meals sitting in their colon which, apart from contributing to disease can also be responsible for fatigue, constipation and weight gain.
ColonAid 700 is offered for a 15 day free trial which also includes a free colon health guide in addition to the two bottles of the product. While this offer seems good, it should be noted that the 15 days starts from the date of shipping and would probably not be adequate time to test the product thoroughly. If the order is not cancelled promptly, the consumer will be enrolled into the auto-shipping program and be sent and billed for two bottles of ColonAid 700 every month.
Details Of ColonAid 700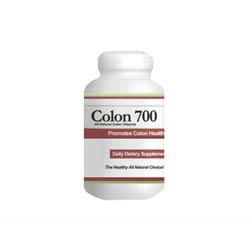 The ColonAid 700 does not include the ingredients that are in their formula although this information can be found on a couple of independent sites.
The proprietary formula is a blend of natural ingredients including Psyllium Husk, Cascara Sagrada, buckthorn, goldenseal, licorice, ginger, rhubarb powder and fennel. Although the Psyllium and Casacara Sagrada will help promote elimination, all the other ingredients are simply digestive aids, although the buckthorn may also help purify the blood.
It is not known how long ColonAid 700 needs to be taken or at what dosage. However, most cleansing products recommend a maintenance dosage is followed after the initial cleanse.
ColonAid 700 Advantages
The website includes a CBS video presentation
ColonAid 700 is all natural and contains no preservatives
Colon cleansing may help prevent colon disease
The company offers a 15-day free trial
A free Colon Health guide is included
Consumers may lose weight through regular and increased elimination
An independent site lists ColonAid 700's ingredients
ColonAid 700 Disadvantages
No ingredients are listed on the official site
The free trial is not adequate time to judge the product
The media reports mentioned on the site are not endorsing ColonAid 700
The site does not include FAQ's
ColonAid 700 is the same product as Colon Med 700
There have been independent complaints filed against the company
ColonAid 700 is expensive, costing $88.97 per month
No clinical trials have been performed on the product
Long-term use of Casacara Sagrada may be dangerous
ColonAid 700 – The Bottom Line
Whenever considering using a product such as ColonAid 700, it is worth looking for one that is available through independent retail stores and does not enrol the customer into an auto-shipping program. Often, as is the case with ColonAid 700, these programs can be impossible to cancel and the consumer continues being sent and billed for an unwanted product indefinitely.
Finally, any product that does not fully disclose its ingredients, has so many complaints filed against it and has suddenly changed its name should certainly be avoided.