Colonic hydrotherapy is a method which cleanses the colon by gently flushing it with warm filtered water using a very low pressure along with special massage techniques on the abdominal area to promote release. Unlike most people think, the treatment is not painful and it is odourless.
Isn't Bowel Movement Enough to Clean the Colon?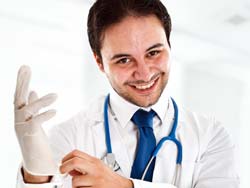 This is the most common question in regards to colonic hydrotherapy. The subject is still highly debatable among healthcare experts. Some doctors are now recommending the treatment but many are still wary and claim it is unnecessary. Proponents of the colon cleansing treatment claim that certain toxic waste accumulate in the body and can get stuck causing digestive problems like gas, constipation and more severe problems like colorectal cancer.
Benefits of Colonic Irrigation
Proponents of the colon cleansing treatment claim several benefits such as how it can improve bowel regularity and resolve constipation. They say that the treatment can strengthen the bowel which promotes regular and complete bowel movements. Another benefit is increased energy levels and improved overall mood. They say that it can provide relief from fatigue and lethargy caused by colon problems.
The most controversial benefit is the claim that colonic irrigation can be very helpful when it comes to weight loss. This is due to the much better metabolic efficiency from a clean colon. However, there is no scientific proof behind this claim. In many cases, a cleaner colon can lead to brighter and clearer skin complexion. There are many other claimed benefits like boosting the immune system, hydration and revitalizing the body.
The Dangers of Colonic Hydrotherapy
The problem with colonic irrigation is that there is little evidence of the benefits of colon cleansing. Georgetown University School of Medicine researchers reviewed 20 studies from the past 10 years found that there is no proof that colon cleansing (hydrotherapy or using strong laxatives) offers health benefits.
However, they found a range of side effects from the treatment like nausea, abdominal pain, dehydration, kidney failure and liver failure. This indicates that colon cleansing may actually do more harm than good. They also concluded that the body is designed to naturally get rid of digestive waste and toxins through bowel movement and urination. Therefore, there is no need for colonic hydrotherapy.
Summary
Colonic irrigation or hydrotherapy is still a highly debatable topic. The health benefits of the procedure are still unsubstantiated. However, the many side effects that can even lead to serious complications should be enough to convince not to undergo the procedure. For colon health, it would be better to use natural colon cleansing dietary supplements that are safer and not as invasive. You just need to find the ones that are both effective and safe.