Overview
If you're looking to give your gut health an overall boost, taking a probiotic supplement daily may be a good solution.
BIOHM Probiotics is one of the organic digestion supplements available, but is it the right choice for you? In this review, we'll answer all of your questions and give you our honest opinion of the product.
What is BIOHM Probiotics?
Editor's Rating
BIOHM Probiotics
BIOHM Probiotics is an all-natural supplement which aims to boost digestion and ease unpleasant gut health symptoms.
This supplement is available from numerous online and offline retailers, including the official site. The manufacturer's prices are as follows:
BIOHM Probiotics contains probiotic strains and digestive enzymes which may help promote a healthy microbiome, for improved digestion. It could lead to healthy bowel movements, and ease mild constipation, gas, and other unpleasant symptoms.
In addition, it may support a strong immune system. This supplement includes quality ingredients but could be richer in probiotic strains. It's an all-natural product, and the price is average for the market.
About the Brand
The manufacturer of this product is BIOHM Health, founded in 2016. This digestive wellness supplement company has their headquarters in Cleveland, Ohio. All of their supplements aim to boost the microbiome and promote improved gut health.
Facts and Specs
Form:

Capsules

Brand:

BIOHM

Contact:

BIOHM Health, 425 Literary Road, Suite 100, Cleveland, OH 44113, Phone: 1-855-750-0424
Email: Support@BIOHMHealth.com

Ingredients:

Amylase, Lactobacillus Acidophilus, Lactobacillus Rhamnoses, Bifidobacterium Breve, Saccharomyces Boulardii 

Cost

$44.99

Guarantee

60-Day Money Back Guarantee
Overall Rating: 3.6
| Features | Rating |
| --- | --- |
| Ingredients | 2.8/5 |
| Value for Cost | 3.7/5 |
| Manufacturer | 3/5 |
| Safety | 4/5 |
Pros and Cons of BIOHM Probiotics
Pros
BIOHM Probiotics may balance the gut microbiome.
The product could promote healthy bowel movements.
It might ease symptoms like gas, mild constipation, and abdominal upset.
The probiotic could improve gut function ratings (GSRS).
BIOHM Probiotics may strengthen the immune system.
Cons
The ingredients list is more limited than some other similar brands.
Probiotics BIOHM could lead to digestive side effects.
It will be more effective for some users than others.
How Does BIOHM Probiotics Work?
BIOHM Probiotics includes several probiotic strains, which are healthy gut bacteria that live along the walls of the intestines. There they proliferate and balance the microbiome by destroying damaging bacteria.
An article in Tropical Life Sciences Research explored the potential positive health advantages of probiotic strains [1].
The supplement also has an enzyme which helps break down the food, for easier digestion and improved nutrient absorption. An article in Current Drug Metabolism discussed the possible role of digestive enzymes in healing gut health diseases [2].
BIOHM Probiotics may result in smoother digestion, healthier bowel movements, and a reduction in issues like mild constipation and gas.
Probiotics may also help with weight management. A review in Nutrients looked at the research related to the role of probiotics in enhancing digestive health and obesity [3]. The supplement has potent anti-inflammatory agents which decrease gut swelling and boost the health of the body's organs.
BIOHM Probiotics has antioxidants which lower levels of oxidative stress by abolishing some of the roaming free radicals in your system. This results in healing and repair in the body and improved immune functioning. This product comes in capsule form. In our Prebio Cleanse Review content, we looked into another formula, though it is in drink form but promises almost the same benefits.
What are the BIOHM Probiotics Ingredients?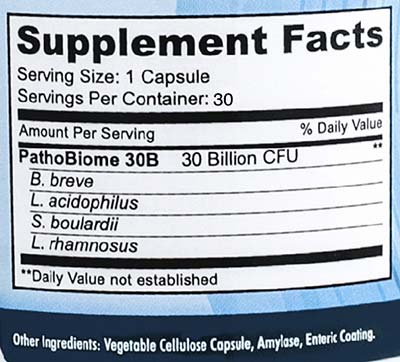 These are some of the primary active BIOHM Probiotics ingredients:
Saccharomyces Boulardii
This is a yeast that exists in lychee and mangosteen fruit peel. It's a probiotic which helps abolish harmful gut bacteria for a balanced gut microbiome. It may promote healthy elimination, and ease issues like diarrhea and bloating.
This strain decreases inflammation in the gut and has potent antioxidants which boost immune functioning. A review in the Journal of Fungi discussed the benefits and probiotic potential of the Saccharomyces Boulardii strain [4].
Lactobacillus Acidophilus
This is a very common probiotic strain that lives along the lining of the gut, and also exists in foods like yogurt and fermented foods. Our article on Yourbiology review documents this ingredient as key in enhancing the microbiome balance. Besides, it destroys bad bacteria, promoting a healthy microbiome, regular bowel movements, and ease of issues like gas and constipation.
This probiotic may also offer weight loss and immune-strengthening benefits. An article published in Microbiology Journal examined the history and benefits of the probiotic strain Lactobacillus Acidophilus [5].
Amylase
This is a digestive enzyme produced in the pancreas and salivary glands or derived from dietary supplements. Its primary role is to break down carbohydrates, making them easier to digest, for improved gut health.
Amylase also reduces inflammation and strengthens the immune system. A review in Current Digestive Reports discussed the role of salivary amylase in digestion and metabolic syndrome [6]
Summary: BIOHM Probiotics has enzymes which help break down the food more easily, and healthy probiotic bacteria which kill harmful pathogens and promote a balanced microbiome. This may lead to regular bowel movements and ease mild constipation, gas, and other GI symptoms
Frequently Asked Questions
Q.BIOHM Probiotics: Where to Buy?
A. You can purchase BIOHM Probiotics on the official site, and it's also for sale from a number of other online and offline retailers such as Walmart and Amazon. The prices on the manufacturer's site are as follows:
One Time Purchase: $44.99
Subscription: $35.99
Q.How Do You Take BIOHM Probiotics?
A. The recommended dosage is 1 capsule daily with food. Do not exceed the maximum dosage under any circumstances.
Q.What is the Return Policy?
A. The manufacturer is offering a 60-day money back guarantee. If you are not happy with this product, contact customer service within 60 days of the purchase. They will guide you through the refund process.
Q.Are BIOHM Probiotics Good Quality?
A. This is a decent quality probiotic supplement, but there's nothing in particular that sets it apart from other brands. There are other natural probiotics richer in strains. How do the best probiotics compare with BIOHM? In some ways, this supplement falls a bit short.
What Do the BIOHM Probiotics Reviews Say?
The BIOHM Probiotics review posts varied in their opinions. There were some quite positive comments from people who said the product really helped balance their digestion. For others, it wasn't strong enough to provide full benefits.
Here are a selection of user remarks about BIOHM Probiotics, to give you a good idea of how customers have experienced this supplement:
I've Been Taking The Probiotic

I've been taking the probiotic for a couple weeks and I feel good so far.~Judy T.
Formula Change?

I've purchased this in the past and it really helped my digestion but this time around, I feel no difference. ~Liz O.
Our Son Has Gut Issues

Our son has gut issues and we can already see a difference in his bowel movements with just 2 months on the Total Gut Probiotic. Thank you BIOHM.~ Brittney V.
Good Product

Really noticed positively great results. Feel great, regular digestion schedule, better than other fancy stuff like Seed.~ Joshua W.
Rating for Claimed Benefits
Here is our ratings, based on scientific evidence, of how likely BIOHM Probiotics will be effective for its claimed benefits:
Balances the Gut Microbiome*

3.8/

5

Improves Gut Function GSRS Ratings*

3.4/

5

Eases Symptoms Like Gas, Mild Constipation, And Abdominal Upset*

3.3/

5

Promotes Healthy Bowel Movements*

3.2/

5
Note: We used the insights from our research and analysis to assign a star rating from one to five (five being the best; one being the worst) to this product.
Conclusion
BIOHM Health Probiotics is an all-natural dietary supplement which aims to promote a healthy gut microbiome, regulate digestion, and reduce symptoms like gas and constipation. It's a quality product, but could be much richer in probiotics and other ingredients.
The BIOHM Probiotics review posts online offered a range of opinions about this supplement. There were quite a few customers who said their digestive health really benefited. However, others found it wasn't potent enough and said they would not repurchase.
This supplement contains only pure organic ingredients and is safe. However, some users may develop mild side effects, so if you have symptoms which are unpleasant discontinue use immediately. Prior to taking BIOHM Probiotics, it's important to get medical approval from your physician.