Your gut health and colon health are important because they support proper digestion. If left unattended to the gastrointestinal tract, the colon could become a breeding environment for harmful bacteria to thrive.
These harmful bacteria then cause an imbalance in the digestive system, which then causes stomach issues such as constipation, stomach bloating, stomach pain, and discomfort. To avoid such issues, you should find a gentle and safe way to cleanse and detox your colon and digestive tract.
Overview
Colon cleansing is important for detoxification purposes. It enhances the elimination of waste material, harmful bacteria, and toxins from the body. It also helps the body get rid of water weight and helps enhance weight loss.
Colon and digestive cleansing are also ideal for promoting digestive, gut, and overall health. It's also ideal for improving overall immunity and the body's wellness. Recently, oxygen-based colon cleansers have received alot of hype and attention in the market. Are they worth it? Do they cleanse the colon completely? This review will dive deep into how NBPure Mag07 Cleanse works.
What Is NBPure Mag07 Cleanse?
Mag07 Cleanse is an oxygen-based colon cleanser, digestive system detox, and natural laxative alternative. It contains magnesium oxide and oxygen, which work simultaneously by infusing magnesium oxide and water into your bowels for effective and smooth bowel movements.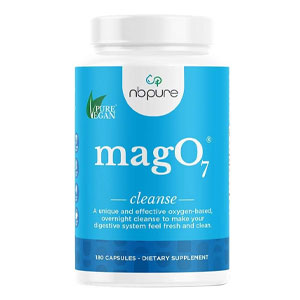 Editor's Rating
NBPure Mag07 Cleanse
Mag07 Cleanse helps relieve bloating, ease constipation, and promote regular bowel movements. It does that by breaking down the hardened stool, which would otherwise be uncomfortable and painful.
Facts and Specs
Form:

Capsules

Brand:

NBPure

Contact:

Phone: 800.798.0707
Email: info@nbpure.com
Main Office:
1610 W. Whispering Wind Dr.
Phoenix, Arizona 85085

Ingredients:

Magnesium, Potassium, Certified Organic Rice Flour, Citric Acid, Vegetable Cellulose.

Cost

$27.95

Guarantee

100% Guarantee
About the Brand
NBPure is the brand behind Mag07 Cleanse. This brand was created over 25 years ago and has evolved. It's a woman-led brand founded by Danna Pratt. The brand was previously known as Aerobic Life before changing to Nutritional Brands, then NBPure as the brand has evolved, so have the products. They have become more effective over time as the brand's manufacturing process improves.
The brand prides itself in seeking natural solutions to health problems by providing the best supplements. NBPure has a range of products targeting different needs and even different age group demands.
Overall Rating: 4.4
| Features | Rating |
| --- | --- |
| Ingredients | 4.3/5 |
| Value for Cost | 4.4/5 |
| Manufacturer | 4.2/5 |
| Customer Reviews | 4.4/5 |
Pros and Cons of NBPure Mag07 Cleanse
Pros
NBPure Mag 07 Cleanse relieves constipation and bloating.
It improves digestion and cleanses the colon.
NBPure Mag 07 Cleanse supports digestive health.
It's a fast-acting supplement that delivers results within a short time.
NBPure Mag 07 Cleanse is an all-natural supplement that is gentle and safe compared to laxatives.
Cons
Results may take time, depending on the individual.
How Does Nbpure Mag07 Cleanse Work?
NBPure Mag 07 Cleanse works with two major ingredients to help you experience smooth digestion and easy bowel movement. These ingredients work as laxatives and infuse water and oxygen into the bowels.
Laxatives soften the stool, add moisture, and make it painless as it passes out. They are ideal for constipation and help you achieve regular bowel movements.
NBPure Mag 07 Cleanse relieves bloating stomach pains and discomfort. It improves your digestive health so that you'd not have to endure all the pain and discomfort associated with stomach problems. It removes excess waste and toxins, thus making you feel lighter, better, and less bloated or constipated.
What Are The Key Ingredients in Mag07?
Magnesium Oxide
This is a mineral used as a natural laxative. Experts reveal that it has properties that pull water into the intestines, which works as an osmotic laxative to soften the stool.
Magnesium oxide is known to be gentle and hence doesn't cause any irritation and has a low chance of causing adverse side effects. It also promote bowel regularity hence may prevent constipation in the long run.
The slow release of oxygen into the digestive tract, together with magnesium, enables the breakdown of hard stool into a regular stool, thus promoting regularity and relieving constipation.
Other Ingredients
Potassium, Certified Organic Rice Flour, Citric Acid, Vegetable Cellulose Capsules
What Do The It Works Cleanse Reviews Say?
Effective Supplement
Nbpure Mag07 Cleanse is simply effective and works very well. I used to have trouble with constipation and hard stool which caused colon bleeding and blood in the stool. But since I started using Nbpure Mag07 Cleanse, I have experienced smooth regular stool. It has completely relieved me of my stomach issues. I highly recommend it to others with similar issues. ~ Margie
Nbpure Mag07 Cleanse The Best Supplement
Believe the Nbpure Mag07 Cleanse in the market and socials. I started using Mag 07 last year, and my Life has never been the same again. It's such a gentle product that acts gently in your body. I barely noticed it worked until I felt the urge to use the washroom. I also didn't experience any pain or discomfort during my bowel movements. Such an amazing cleanser. I also feel lighter whenever I use Nbpure Mag07 Cleanse. ~ Jeremy
Satisfied Customer
I purchased Nbpure Mag07 Cleanse after a friend recommended it, and it blew my mind. I was ready to get disappointed, but it proved me wrong. I have a history of constipation and bloating, which is the perfect solution I've ever encountered. Nbpure Mag07 Cleanse is one of the best products in the market. I'd only request the manufacturer to downsize the size of the capsules to make it easier for consumption. Otherwise, I've got no complaints so far. ~ Alex
Could Be Better
Nbpure Mag07 Cleanse is the best for constipation. It also makes me feel a bit lighter and less bloated than usual. I've not experienced any side effects, which makes me more grateful. I had tried other products in the market, but their side effects were as worse as my initial stomach issues. The manufacturer could work on the size of the capsules or introduce a powdered version. In terms of effectiveness and efficiency, I 100% recommend Nbpure Mag07 Cleanse to others having digestive health problems. ~ John
Rating For Claimed Benefits
Here are our ratings based on scientific evidence on how effective NBPure Mag07 Cleanse will be according to its acclaimed benefits:
Cleanses The Colon*

4.4/

5

Relieves Bloating*

4.3/

5

Relieves Constipation*

4.3/

5

Improves Digestion*

4.2/

5
Note: We used the insights from our research and analysis to assign a star rating from one to five (five being the best; one being the worst) to this product.
Conclusion
Constipation, indigestion, bloating, and other stomach discomforts are part of Life. However, if you experience them constantly and frequently, it could be high time you sort some help. Luckily, we have supplements that can help us in our homes without dreading booking a doctor's appointment.
Many supplements promise to cleanse your system and relieve you of digestive issues before deciding on what to buy or placing your order. It's important to do your due diligence on a brand and the product of your choice. Proper research will help you make informed choices on matters concerning your health.
According to customer reviews and brand ratings, you may give NBPure Mag07 Cleanse a try. It's one of the oxygen-based colon cleansers available on the market. However, please note that consistency is required for you to experience effective results. Also, results vary from individual to individual, so don't have your hopes so high. You may also want to run your decision through your professional healthcare provider if you have any other health issues.
Frequently Asked Questions
Q.What Do The NBPure Mag 07 Cleanse Reviews Say?
A. A: The reviews show that the product is beneficial and effective. However, individual results vary. Some customers have experienced good results, while others seem disappointed.
Q.How Do You Use NBPure Mag 07 Cleanse?
A. A: The manufacturer advises taking 3 capsules on an empty stomach with 8–12 oz water. Use for 7–10 days or until you achieve your desired cleanse goal. The manufacturer also recommends taking the supplement daily, preferably 2–3 hours after your last meal.
Q.What Is NBPure Mag 07 Cleanse Return Policy?
A. A: The manufacturer offers a 100% 60-day guarantee on all products bought via their official online store.
Q.Who Should Buy NBPure Mag 07 Cleanse?
A. A: NBPure Mag 07 Cleanse is suitable for individuals who: suffer from frequent constipation and bloating. Want to seek herbal and natural options to treat digestive issues? It's also ideal for individuals on low-fiber diets, who travel alot, and those with inactive lives that could affect their bowel movement.
Q.How Much Is NBPure Mag 07 Cleanse?
A. A: NBPure Mag 07 Cleanse costs $27.95
Q.Where To Buy NBPure Mag 07 Cleanse?
A. A: NBPure Mag 07 Cleanse is available on the official online store and Amazon. You can also find it in other physical and online stores as well.
Q.Is NBPure Mag 07 Cleanse FDA Approved?
A. A: There's no information available indicating whether or not NBPure Mag 07 Cleanse is FDA-approved.
Q.Is NBPure Mag 07 Cleanse Safe?
A. A: The product seems safe according to customer feedback and the manufacturer's information regarding the sourcing and manufacturing process. The brand has also been in the market for over 25 years with plenty of experience and a reputation to bag.